Making Things Better for My Customers
We hope that through close cooperation with customers, we can jointly achieve sustainable development together.

Global Recycled Standard ( GRS, RCS )
Founded in 2012, is a professional fashion fabric manufacturer and exporter in Keqiao Shaoxing China.
Naying mainly develops and supply fashionable fancy fabrics. The main products are embroidered fabric, lace fabric, sequined fabric, laser cutting fabric, chemical lace as well as eyelet fabric and beads fabric, and so on.
We have been exporting our products to different countries like Mexico, Greece, Spain, Italy, Turkey, Peru, Romania, Brazil, the United States, United Kingdom, as well as South Africa, Egypt, India, Saudi Arabia, United Arab Emirates and so on.
Excellent innovation capability is our main advantage. Every week, more than 50 new embroidered fabrics are designed and developed.
Shaoxing Naying Textile Co., Ltd.
Design - Manufacture - Export
embroidered fabrics, sequined fabrics, lace fabrics, chemical lace, as well as beads fabrics, eyelet fabrics and rhinestone fabrics etc.
Fast sample design and development
10000+ designs in our showroom, you can quickly find out what you want
OEM/ODM available
GRS, RCS certification
10 years + factory
Advanced computerized embroidery machine
Monthly production capacity: 1000,000 meters
Exquisite workmanship
Floor space:5000m²
One stop solution
Fast delivery
Ningbo port or Shanghai port
Our cooperation embroidery factory has produced every piece of fabric with exquisite workmanship, we have 13 sets of 120 heads cord and sequin embroidery machines, 5 sets of machines for luxury bead and sequin embroidered fabric and 4 sets of development machine.
In addition, Naying Textile has established a stable and reliable supply chain with more than 50 embroidery factories and more than 100 suppliers of embroidery base fabrics.
With advanced textile machines, our embroidery factory is committed to meet customer demands more efficiently. We focus on the quality control and give the best to customer all the time.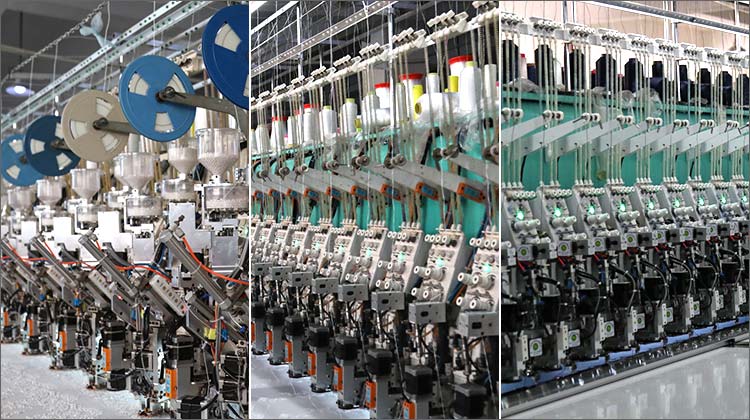 Naying is a fashionable fancy fabric supplier for well-known brands such as Calvin Klein, Costco, Mango, Tesco, White House Black Market, Tadashi, Walmart, BCBG, Zara, etc.
Have any questions? We are always open to talk about your business, new projects, creative opportunities and how we can help you.