What is Sequined Fabric
The sequins are special embroidery fabrics. The high-temperature-resistant PVC sheet of various colors can be punched into the corresponding sequin tape with the specific requirements of the shape and specifications, and then processed various sequins pattern style with the base fabric through the computer embroidery machine equipped with a sequin embroidery device. Sequins embroidered fabrics are completed by a series of sequin stitches.
View More Items of  Sequins Embroidered Fabrics from China Manufacturer  and Exporter
The Production Process of Sequin Embroidered Fabric
Compared with the flat stitch embroidery machine, the sequin computer embroidery machine is equipped with a special delivery device.
The embroidery machine follows the computer's stitch instruction to move the tape-shaped long sequins to the corresponding position of the base fabric. Then the blade of the sequin cutting device cuts the sequins one by one. At the same time, the embroidery needle is pierced into the base fabric in the center of the sequins, and the sequins are fixed in an accurate position. Then centered on this, embroidery along the sequins that meet the stitch of the design requirements. It can be a single stitch, double stitches, three stitches, and wrap the sequins tightly to make it close to the embroidery base. With the repeat motion of the delivery device and the embroidery needle, and the motion of the embroidery frame, a glittering sequin pattern or shape is generated.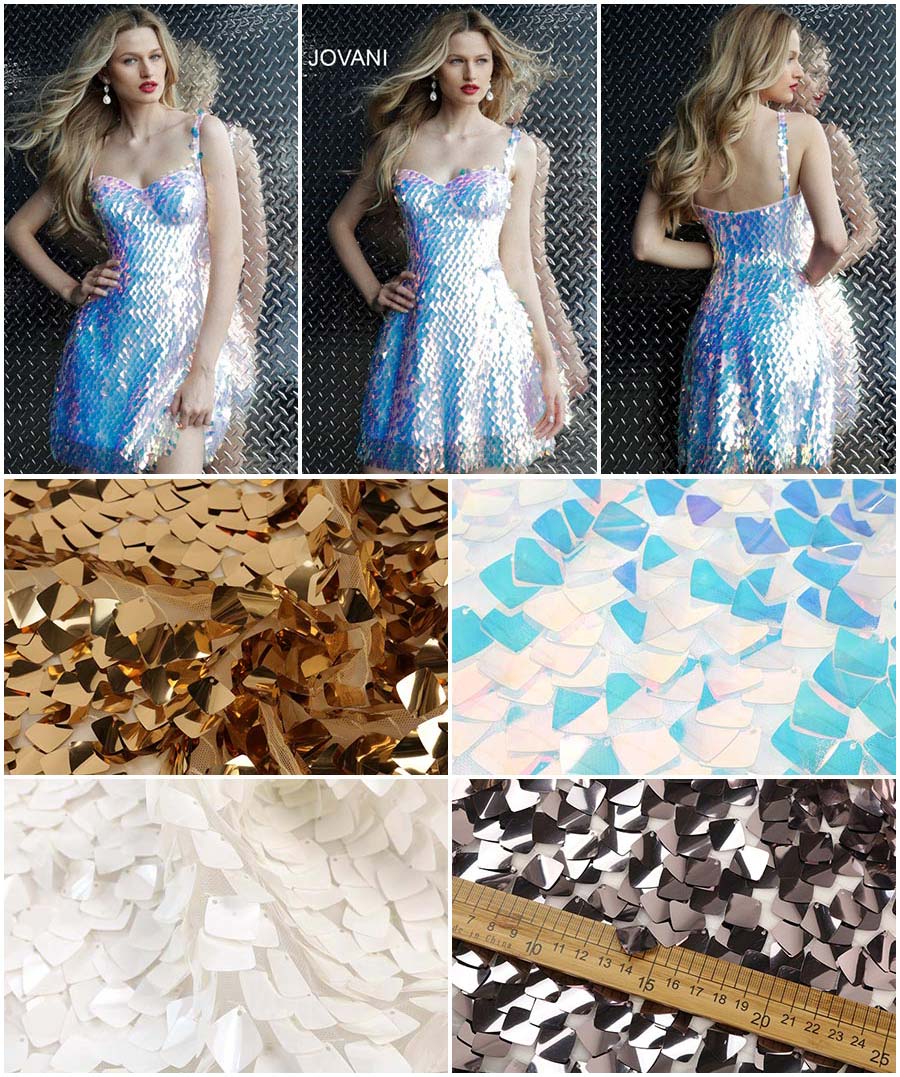 Popular Large Sequins Fashion Dress Designed and Produced by JOVANI
The sequins are gorgeous and reflective. Shiny, matte and transparent sequins have slight differences. At the same time, you can produce a variety of shapes. There are round, square, triangular, raindrops, oval, irregular, vertical strips. 0.3cm, 0.5cm, and 0.7cm diameter are available. Color can be processed according to demand.
The sequins are made of PET material with a hard texture and a smooth surface, and with different colors, sizes and shapes, the embroidered fabric has a unique effect and charm.
Features of Sequin Embroidered Fabric
Sequin embroidery is exquisite in craftsmanship, elegant in taste, novel in design, and has a special natural charm, especially suitable for all kinds of fashion places.
The sequin has a flash effect of BlingBling. Any sequins embellished on the fabric can absorb light sources from different direction. With itself colors, The sequins figure out the distinctive flashing and gorgeous performance. The embroidery thread mainly plays a connection role. In order to make the sequined embroidery fabric achieve the best flashing effect, it is generally used mesh as a base fabric, such as Korean mesh, poly mesh, nylon mesh, etc.
Bright and changing colors, fashionable and dynamic effects, with strong visual impact, attract everyone's attention.
With points, lines and surfaces as pattern elements, points are connected into lines, lines paved into surfaces. The use of thickness, density, direction, shape, size and color changes, constitute different levels, waves, beams, focus and other different decorative effects.