Techniques:
Exquisite Cord and Water Soluble Chemical Lace Embroidery Workmanship.
Application:
Fashion Apparel, Bridal Dress, Wedding Dress, Evening Dress, Party Dress, Bikini, Tablecloths, Table Covers, Dolls, Hair Accessories, Hats, Bags, Curtains, Home Textile, Drapery, Home Decor, Pillow, Cushion, Dance Wear, and Crafts.
---
Expansion information
Geometric patterns have always been a must-have pattern element for lace embroidered fabrics. In the market of embroidered lace fabrics, geometric patterns appear very frequently, especially circles, which are popular elements of water-soluble lace fabrics.
This 100% cotton geometric lace fabric creates a unique fabric style through different geometric patterns. Thin and sparse rope embroidered water soluble chemical lace, soft texture, three-dimensional plump, soft luster.
Through the combination and arrangement, geometric circular meshes of different sizes and shapes are presented on the surface of the lace fabric, and different densities construct geometric abstract patterns, with rich visual effects.
Water soluble lace embroideres the pattern on the backing paper. After pattern embroidery is completed, high temperature water dissolves the bottom paper, leaving the embroidery lace body, so it is called water-soluble lace fabric. Water-soluble lace fabric is generally firm in shape and thick in texture, which can be used for relief modeling with obvious three-dimensional sense.
And this water soluble lace uses fluffy rope to make shape lines, combined with rope embroidery technology, expressing the love and sweetness of leisure and relaxation.
Suitable for simple, comfortable and elegant women's clothing, such as dresses, tops, skirts, etc. Also suitable for various home textile products, such as tablecloths, curtains, etc.
---

Certification: Global Recycled Standard ( GRS, RCS )
---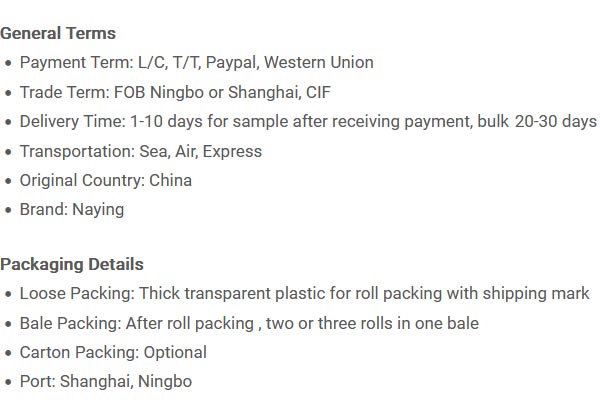 ---