Famous Brands Take You to Be The Brightest Cub in The Crowd.
The parties we could not attend because of the COVID-19 pandemic, began to re-enter our lives. With a shiny sequin dress as a battle gown, is a good choice. Full of sequins with different lights refracted different shinning, it looks like mermaid princess ashore, very eye-catching.
All over sequin fabric unlike other embroidered fabric, which pattern cycle is larger. It is suitable for making various types of clothes, what's more clothing design limitations are smaller. It can even be used for bags, shoes design, and they are more suitable for all kinds of sales channels.
The design of the all-over sequins fabric is relatively less, generally we change the size of sequins to get different effects. At present, 3MM and 5MM sequins fabric are produced, each type has several different density versions to meet the needs of customers with different prices.
Now we also put sequins with different sizes together to form certain changes to increase the design of the all over sequin fabric, and also provide more divergence space for the design of clothing.
However, this seemingly simple fabric requires a high level of production control. Production workers need to have many years of experience in the production of the same type of embroidered fabric, plus the support of the new machine, to improve the quality of production, reduce unnecessary losses and problems.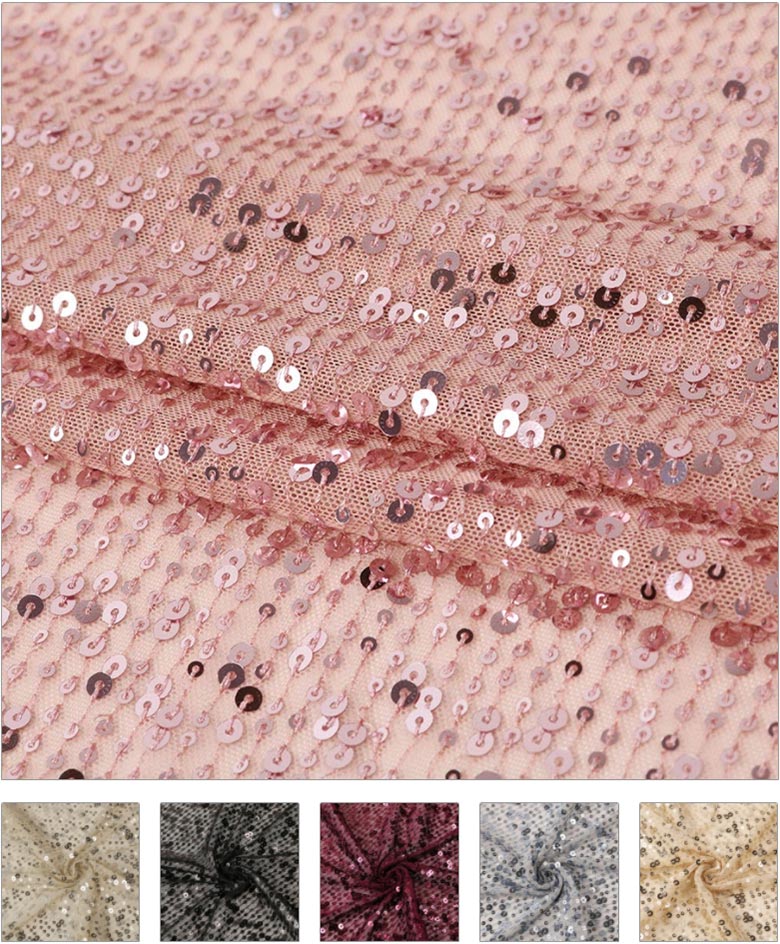 Item: NEW-J03007
Face: 100% Polyester, Ground: 95% Polyester 5% Spandex, Cut Width: 50/51″, Weight: 260 G/M
As an enterprise with many years of production experience, we are a good choice for wholesalers and garment factories.
With absolute competitive price, our classic all-over sequins fabrics  have no age limit, a wide audience and will not go out of style.
If you need more detailed information about all-0ver sequins fabrcs, please contact our following Fabric Specialist!